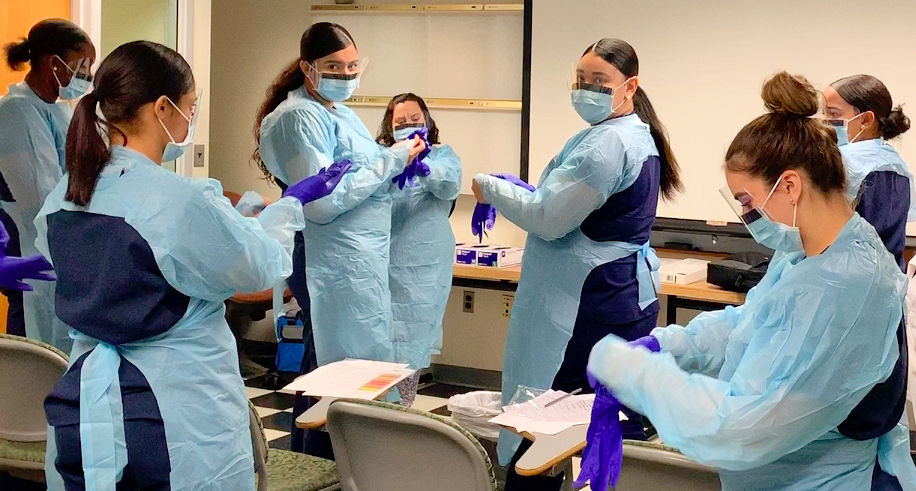 Training Programs
Our Career Training Programs are designed to help you learn the skills you need and obtain the certifications required to make you qualified for local jobs – jobs with a strong career pathway.
We partner with local employers to understand what skills and certifications they need to fill their job openings. Then we create hands-on, real-life, training programs that equip graduates to pursue or advance their careers.
Our programs are affordable, and many are eligible for One Stop grants or employer sponsorship. If you are receiving Unemployment Benefits, you may be eligible to have your tuition paid in full. Payment plans are also available.
Flexible Schedules & Courses
Daytime, evening, and weekend in-person classes
Certified Medical Assistant
The Medical Assistant Program prepares you to play a vital role in the daily operations of a variety of healthcare organizations. Working under the direct supervision of a doctor or licensed healthcare provider, Medical Assistants work in physician offices, hospitals, outpatient clinics, laboratories, diagnostic screening facilities, rehabilitation practices, colleges, and universities.
Medical Assistants have a versatile role meeting both patient and administrative needs. Our program prepares individuals with the medical, clerical, clinical, and laboratory skills necessary to succeed in the field. These busy professionals can go from the front office, answering the phone and completing insurance forms, to assisting the doctor by performing clinical tasks such as taking vital signs, drawing blood or performing an EKG.
Certified Medical Assistant, Patient Care Technician, Phlebotomy Technician, EKG Technician
Certified Nurse Aide
This 90-hour program will prepare you to work as a Certified Nurse Aide (C.N.A.) in long term care facilities, rehabilitation centers, or hospitals. The course includes 50 hours of classroom instruction and 40 hours of hands-on clinical practice that focus on compassionately caring for the elderly and persons with disabilities.
Students are taught a variety of topics in preparation for the New Jersey State licensing exams; topics such as infection control, communication techniques, and skills to safely care for people. Some of the skills taught are bathing, dressing, eating assistance, grooming, and vital signs. Special emphasis is placed on caring for people with Alzheimer's/Dementia with the option to complete a specialization certificate. (In-person training only.)
Medical Billing & Coding
This course provides you with the skills healthcare employers seek when searching for medical insurance billers and coders. You will learn to fill the important role of recording, registering, and tracking patient accounts. This blended course offers hands-on instruction with an internet-based, virtual lab environment that gives you first-hand experience with real-world medical records. Work with actual applications and build skills that can better position you to hit the ground running.
Billers become experts in using ICD-10 codes, CPT-4 codes, HCPCS codes, and modifiers. They understand claim forms, Electronic Health Records (EHR), HIPAA, referrals, pre-certifications, insurance forms, ethics, and more. This is an intensive course that will prepare you to pass multiple national exams and enter this growing field.
Pharmacy Technician
Professionals in this field work under the guidance of a licensed pharmacist in a variety of different types of pharmacies including retail and mail order, as well as in hospitals. Pharmacy Technicians perform a variety of duties related to patient and medication safety. The skills and processes students learn in this course include: understanding and using medical terms, making dosage calculations, preparing insurance claims, processing and handling medications, sterile and non-sterile compounding, technology, and regulatory issues.
Our Career Training Programs are for people looking to start a new career or need certifications to advance to the next level at their current jobs.
We are here to help you decide which program is the best fit for you. Give us a call today at (856) 417-6882 to get started.
Email
Info@AmTrainingCenter.com
Location
7905 Browning Road
Suite #308
Pennsauken, NJ 08109